Entry 9, Leipzig and Spring Break
My school had spring break for two weeks in April, which was the perfect time to get out and enjoy the beginning of spring in Germany. The first week was more casual, I met with friends from my school and we drank boba and went shopping. I was excited for the following week and all that my host family had planned in Leipzig. 
Before Leipzig, my host family visited the Hexentanzplatz. A mountain tied to a children's story, in which the witches flew from the Brockenberg mountain to Hexentanzplatz. I've been to Brockenberg before with my host family before, the hike to the mountain's peak and back was about 13 miles and the view was amazing.
 Both mountains were beautiful, and I enjoyed riding the cable car around the mountain.
Leipzig was a beautiful city. My host family and I spent most of our time exploring the area and visiting famous buildings such as the City Hoch-Hause. I was anticipating the soccer game between Berlin and Leipzig the whole day and I barely took any photos of the city. The game took place later in the evening at the RedBull Stadium and I really loved the energy of the audience. 
That was my first big football game in Germany and it was a lot of fun. The energy of the crowd shows how much football is loved in Germany. Despite both teams sporting red, it was clear who the Berlin fans were. They jumped and cheered non-stop during the games, which is something Berlin soccer fans seem to be notorious for.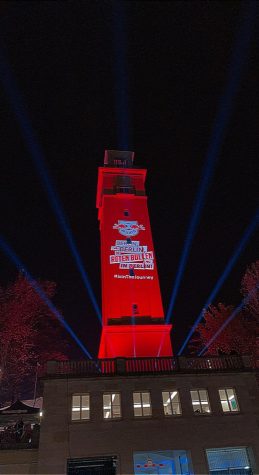 On Friday, the last day of vacation, I met my friends around Erfurt, one of my favorite cities in Thuringia. \We can only meet once a month, so we always spend the whole day together shopping, walking, eating and talking about our exchange year.