Entry 4, November Break at Berlin
I have to admit that after spending a week in Dresden I wasn't super stoked to start school again the following week. But as I've learned so far in my exchange year, German schools are full of surprises and I would have a two-week school break following my first week back from Dresden. 
My host family already made plans for the two weeks, which included visiting Berlin and the nearby city of Potsdam. 
I was ecstatic to visit Berlin, my dad had gone twice for work-related trips, his stories of the food, culture, building and technology motivated me to apply for the CBYX scholarship and landed me in Germany. 
But before heading to Berlin we made a stop at my host father's sister's house. She lived near Potsdam so we would be staying there for the entirety of the trip. 
On the first full day there we spent the first half of the day visiting the Beelitz Heilstätten which is an abandoned military hospital and now a tourist attraction surrounded by metal and wood canopies. The look from the canopies is beautiful and it was really fun to walk inside the metal tunnels that were hanging midair. 
After we finished our visit at Beelitz we went to the nearby Kurbismarkt or pumpkin patch. While pumpkin carving and Halloween celebrations aren't as common in Germany, they still had a variety of attractions for kids the day before Halloween. While we were there we ate roasted and settled pumpkin seeds, spiced drinks, visited the Ferris Wheel, and pumpkin sculptures. 
The following day we headed to Potsdam and explored the area. The day and weather were beautiful and I really enjoyed climbing up the cathedral for a higher view of Potsdam. We didn't explore much outside of the main shopping center our first day in Potsdam, which worked out well because we would end up taking a bus tour through Potsdam in two days.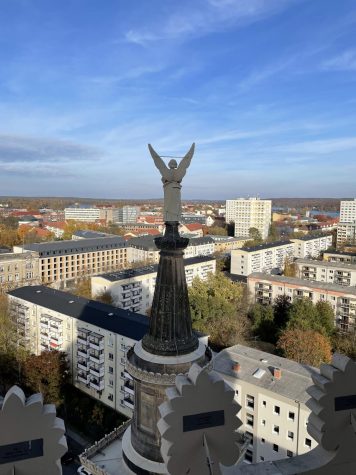 That evening, in the spirit of Halloween, my host brother and I carved a pumpkin, making roasted pumpkin seeds and soup from the scraps. Pumpkin seeds and soup has become a favorite snack of mine, it's perfectly warm and comforting after a long day. 
Following a delicious Halloween night my host family took the train to Potsdamer Platz, Berlin. An old train station in the city center of Berlin. Berlin was one of the stops I was most excited for. My dad had gone there twice for work and had given me a list of places to visit, and I was super excited to visit the same spots that he had raved about over late night phone calls from Berlin. 
To start off our day at Berlin we took one of the famous "hop on hop off" bus tours around the city. I liked the tour a lot more than I thought I would, and would definitely recommend it to future tourists. Being able to drive around the city gives you a better idea of what your top locations to visit are. The tour guides speak English and German and will provide you with history and travel advice during the drive, even pointing out the difference in city infrastructure created by the western and eastern split due to the Berlin Wall. It's also very convenient when you need to get a ride to another location, the bus tours have stops throughout the cities, making it easy to get a ride about every 15 minutes.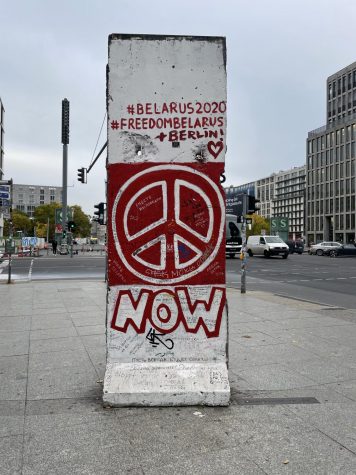 After getting off at our first stop and grabbing a quick currywurst snack we headed for the nearby Brandenburg Gate. I had been told by Germans that the Brandenburg Gate was much more famous in America than it was in Germany, and that seems to be the case when I visited Berlin. The entirety of our visit consisted of stopping, looking for a second, taking a photo and moving on.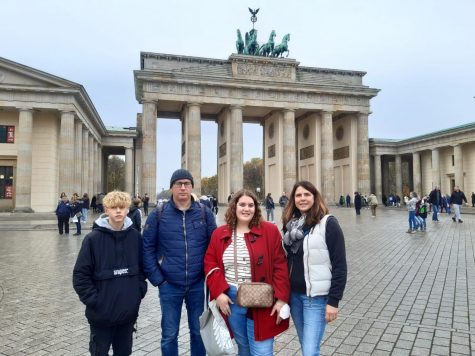 I was more excited to walk through the Holocaust Memorial and the Vistory Column which were both opposite and beautiful experiences. The Holocuast Memorial is remarked for creating a sort of offstandish aura while you walk through the adjacent columns. It's a great place to contemplate and think, surrounded by many others who do the same.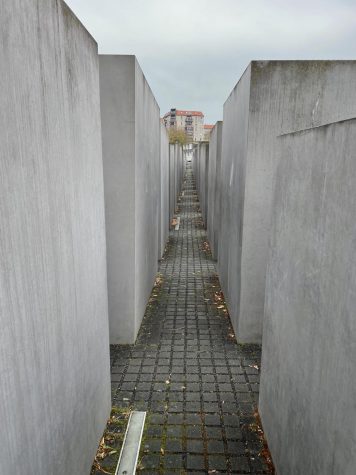 The Victory Column was one of my favorite historical stops, and a great way to see the entirety of Berlin. The column was moved by Hitler and the Natzi Party to its current location in 1939. When walking past the column it's easy to miss it's involvement in World War 2, with the base of the building sprinkled with bullet holes creating fragments in the columns design. Inside the column is a museum that details the story of the column's history, creation, relocation, and finally involvement in modern society. While it's optional to skip the museum, I would definitely recommend the stop before climbing the stairs.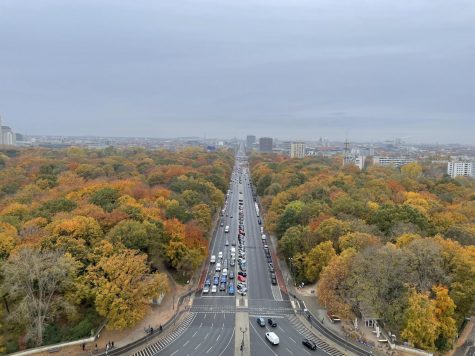 Next was shopping, one of my host brothers favorite activities. Berlin's shopping center naturally has a huge variety of popular store brands and tourist shops that lighted up the area. Although, one of my favorite spots ended up being the year round Weihnachtsmarkt (Christmas Market) that sat next to the Kaiser Wilhelm Memorial Church. Despite it being Nov. 1, the marketplace was lit up with Christmas lights and German sweets bringing a sense of comfort and warmth to the center of the city.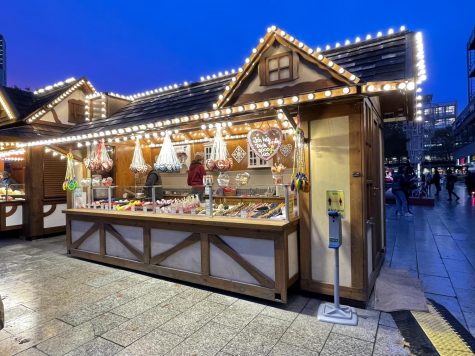 I was a little upset to go to Berlin and then spend the next day again in Potsdam for the last day of our trip, but Potsdam definitely turned out to be a welcomed surprise. The city hosts a variety of summer castles with beautiful views and parks. We decided instead to go solo like we did for our first visit to Potsdam to take another hop on and off bus tour which I really enjoyed. Potsdam and the surrounding water looked beautiful with the bright fall leaves scattered on the ground. 
We hopped off the bus at Potsdam's Sanssouci Park and hiked to the nearby New Palace all surrounded by fall trees. Going from the busy city to the calm suburban scenery of Potsdam was a nice change.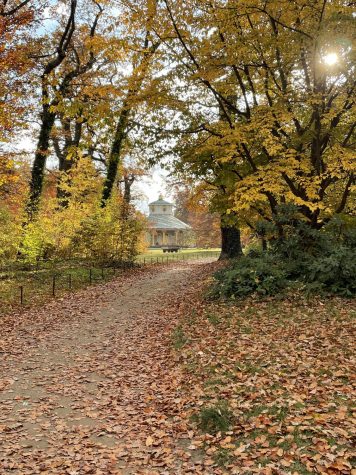 After ending the trip with bratwurst and shopping we hopped back in the car and headed back home to Kefferhausen. I loved both Potsdam and Berlin, but I felt like I'd only seen a fraction of the cities. I really hope that during my time in Germany I get to visit both cities again.
Bis Später,
Anna