Senior Anna Miesner begins year abroad as part of Congress-Bundestag Youth Exchange Program
Each week, look for an entry about her adventure. Entry 1, A Recap of My First Week in Germany
In late March I got the call that I was accepted into the Congress-Bundestag Youth Exchange Program or CBYX for short. CBYX is a foreign exchange program between American and German students from the ages of 14-18. 
While in Germany I'll be staying with a host family for eleven months and going to a Gymnasium, which is one of the many types of high schools available in Germany. My host family was on vacation the first week that I was in Germany, so I stayed with another CBYX participant and their host family in Leinefelde, Thuringia. 
I left Kansas on August 20 and after two days of orientation and a seven-hour flight arrived in Frankfurt Germany on August 22.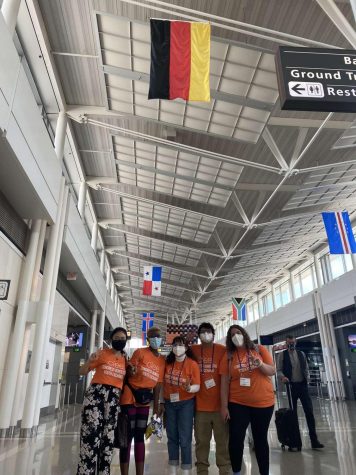 That first day in Frankfurt was incredibly hectic and exciting. After getting off the flight and checking through customs I had to run straight to my train. The customs check had taken so long that I had to throw my bag onto the train and jump on seconds before it left. 
I have never been on a train before, let alone a German one, which became immediately clear to every other passenger as I missed my first stop and had to wait another hour and a half to get off at the next. My temporary host family was very understanding and welcomed me warmly when I finally arrived at the correct station two hours later. 
For the first week, everything in a new country was exciting, but what I really enjoyed was the hikes, or wanderungen, that my temporary host family would take. They liked to hike a lot, and it turned out to be a great way to explore the surrounding area while improving my German. We would make a lot of stops on the way to our destination to look at the sunset or pet a farm animal, and I would constantly point and ask "Was is das?" (What is this?).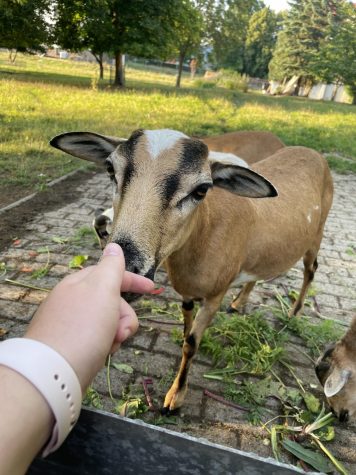 On one of the first days, my host family and I went on a six-kilometer hike in the woods. It was earlier in the evening and we stopped at the very top of the hill to have a quick dinner. I loved the view from our picnic table, which overlooked three villages within Thungria, the state that Leinefelde resides.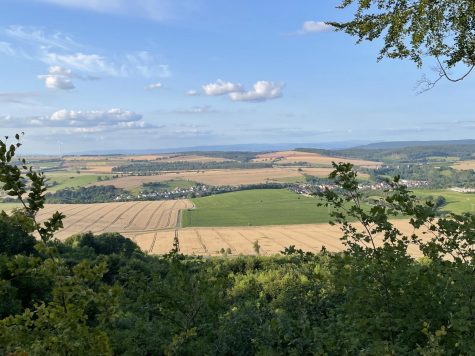 Along the way out of the forest, we made many stops to look at the landscape. The fresh air and gold sun were very welcoming and serene, I definitely understand while my host family finds it appealing.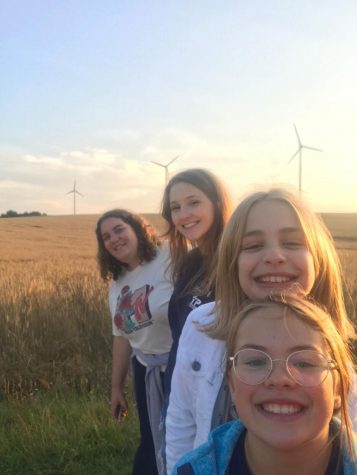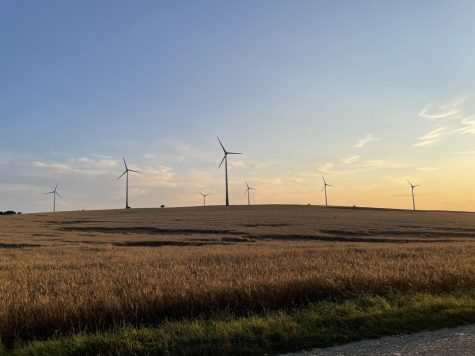 On the 29th, my temporary host took me out for one last meal before my permanent host family picked me up. We went to a restaurant right next to my temporary host dad's workplace, and I ordered Wienerschnitzel, which is essentially a really thin battered pork chop traditionally served with boiled potatoes or fries. 
When my host family picked me up it was a bittersweet moment. I was so excited and nervous to meet them, but I was also sad to leave my temporary host. They were very kind, patient, and compassionate people, and after just getting to know them and their passions I was hesitant to start all over again. 
I've lived with my permanent host family, the Wenkermanns, for less than a week, and I'm so excited to get to know them better. I really appreciate how mindful Astrid, my host mother, is. Yesterday she asked me what I typically eat for breakfast and when I said "eggs" she made them the next morning. 
Now I have been in Germany for a little over a week and I am so thankful for google translate, it has saved my butt numerous times. Since I'm so new to German most of my involvement in a conversation consists of nodding and small simple comments. There's still so much more to cover and I can't wait to share it. Next week I start school, and my host mom and I have been busy preparing. I will share more on German schools in the next post. 
– Bis Später,
Anna Miesner 
View Comments (4)