Entry 7, Food Culture
I have to admit, when I first got to Germany it took me a while to set into the typical eating habits that my German family stressed. It was weird for me to start off the day with a cold meal, and end it with a cold one as well. 
My host family typically eats breakfast at varying times during the week, and as a result, I take my breakfast on the go. So we only really sit down to eat breakfast on the weekends, which means a bigger breakfast and a later lunch. 
Typical morning foods include smoothies, bread, meat, fruit, yogurt, with the addition of smoothies, boiled eggs, and a variety of meats and cheeses on the weekend.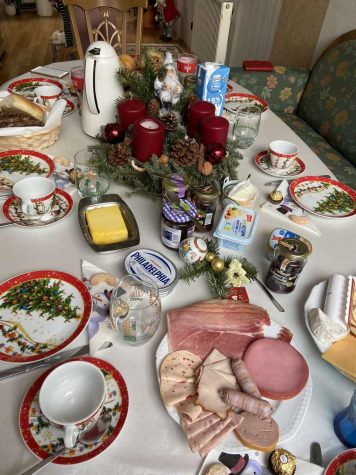 The variety of meats and cheeses served in Germany feel never-ending, and are a huge part of the eating culture in Germany. Meat is in almost every classic German dish, it's everywhere. A city will be sprinkled with food trucks selling a variety of meat dishes, grilling street food stations, and specifically regionally meat booths during the holidays.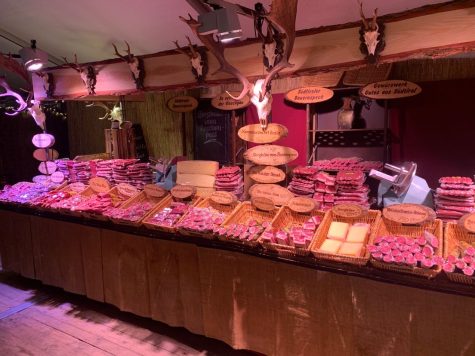 Lunch is typically the only warm meal served in Germany, with the exception of a holiday or summer barbecue. Lunch in Germany feels akin to the lunch that I would typically eat in the U.S. My school schedule makes it possible to eat lunch at my house every once in a while and leftovers from dinner have become a saving grace. Walking with my classmates to get fast food or small snacks from the surrounding eateries. 
While I love the endless amounts of bread and pastries that our schools surrounding grocery stores offer, I find the street food more exciting. Döner is one of my personal favorites, with the most varieties. The popularity of döner was sparked by Turkish workers immigrating to  Germany post World War Two. With Turkish workers slowly creating and moving into communities in Germany, döner slowly intertwined with German street food. 
The traditional dish is a Turkish kebab styled sandwich that is slowly cooked similarly to Shawarma or Pastor on a pike and served with lettuce, tomatoes, cucumbers, kebab meat, and sauce. There are a few other döner dishes such as döner pizza or fries, which are really fun to try.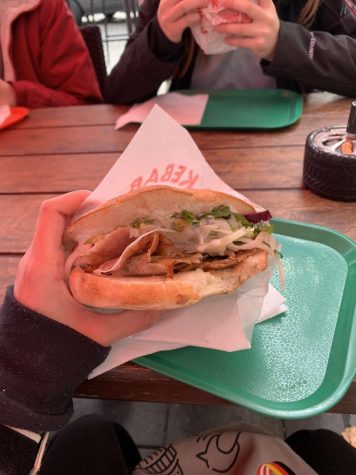 Every time I went to one of the bigger surrounding cities with my friends, we would always get döner wrapped in foil. It was a quick and delicious meal that we could eat whilst walking around the city. 
There is also a clear south-eastern asian influence in the German eating culture. The typical stir fry restaurants are very popular, as well as Boba Tea stops, ramen and phở restaurants, or sushi stops. Living in a smaller and more rural region, I was surprised to see Turkish and Asian restaurants sprinkled throughout the area, and having them nearby has been really enjoyable. 
– Bis Später, Anna