As a long-time fangirl of The Conjuring series, I was really excited when I heard they were making a second The Nun movie. Without spoiling too much, I will say that while it wasn't the most originally written demon-terrorizing-everybody horror movie, I found it a lot scarier than its predecessor.
While the first film takes place in a monastery in 1950s Romania, this one takes place in a winery turned boarding school (I mention this because of a really cool scene where all the wine is magically turned into the blood of Christ right at the climax of the movie – – still technically not a spoiler!) in France. This movie, as well as the first one, is riddled with Catholic and Christian imagery and morals, but as someone who's not even a little bit religious, I can really appreciate the culture and the visuals it brings. It gives off this kind of gothic Vatican horror vibe that in certain shots is as beautiful as it is eerie.
If you're a Conjuring connoisseur like me, or if you've seen the first The Nun film, you probably remember my main man Maurice a.k.a. 'Frenchie', who was unlucky enough to be possessed by Valak, the nun demon, at the end of that movie. He has a much bigger role in this one, and it's especially heartbreaking seeing him being the kind, gentle soul he is and protecting a little girl from school bullies, and then later seeing him possessed by Valak and utterly terrorizing this same girl.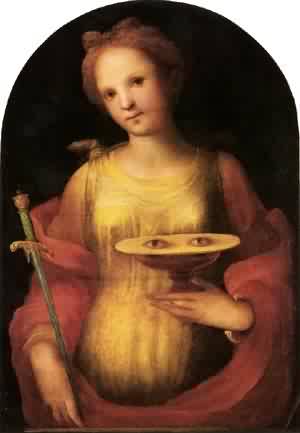 I also really liked that they included a version of one of my favorite paintings, an oil portrait of St. Lucy by Italian artist Domenico Beccafumi. For those who don't know, St. Lucy is a martyr and one of the earliest Roman Christian saints to gain popularity. She is also often called the patron saint of the blind.
In the painting, she is depicted holding a dish containing her eyes. I think they did a good job incorporating this into the film because, in this universe, the eyes of St. Lucy are basically this ancient relic that can be used to either defeat Valak, or bring mass destruction in the wrong hands. The writers made a couple of tweaks to the story of St. Lucy to fit into the plot, but I think they did so tastefully and deserve credit for it.
Overall, if you're a horror fan or hoping to get into horror, I would definitely recommend this movie – – but I would say, if you're not familiar with the other seven Conjuring movies, I would AT LEAST watch the first The Nun movie before watching this one.