Review of Melanie Martinez's "PORTALS"
"PORTALS" is Melanie Martinez's third full studio album and a continuation of the storyline she has built with her other albums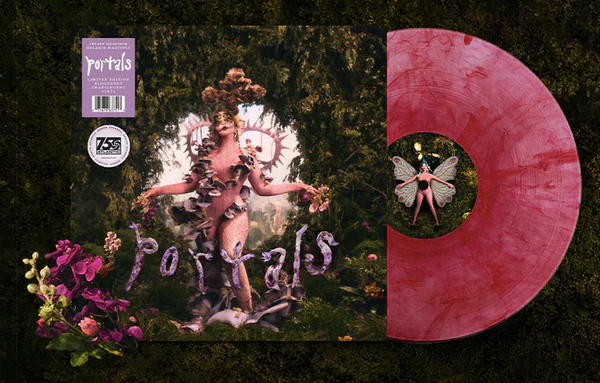 Singer, songwriter, and producer Melanie Martinez has garnered a loyal fanbase over the years and is known for her experimental dark pop style and thought-provoking, satirical lyrics that often tell stories about heavy subjects accompanied by cutesy visuals. On March 31, 2023, she released her long-awaited third studio album titled "PORTALS". She surprised fans by completely removing her own face and image from the project, and taking on the persona of a pink-skinned, four-eyed nymph/fairy creature.
The first song in the album, "DEATH", is our first introduction to Crybaby's (Martinez' character in the universe she created through her songs) new form. In the music video, we see the death of her human form, and she is subsequently reborn as the eye-catching pink character we see her as now. I really enjoyed listening to this song, especially for the first time. It gives us a kind of sneak peek in terms of the new style she has adopted for the other songs in the album. It still has that emo pop rock feel, but is more ethereal and electronic sounding, accompanied by voice synthesizers and heavy base. "VOID" is the second song on the album and one of my favorites overall. It represents being alone in your own mind and caving in on yourself, trying to escape your own harsh inner critique, a.k.a the "void".
The next song is "TUNNEL VISION". Its meaning doubles as a metaphor for Crybaby's soul moving through a tunnel into the next phase of life but also represents Martinez's love interest being hyper-focused on her body.
"FAERIE SOIREE" is definitely a song you can dance to, its catchy guitar riff and fast paced, clappy beat is definitely an experience to listen to. It's a bit more vague in terms of lyrics, but to be honest it's hard to care about the double meaning in the lyrics when the music itself is so good. The fourth song, "LIGHT SHOWER", is a slower and more emotional ballad about her partner showering her with rays of light. It also doubles as a metaphor for Crybaby's soul cleansing as she is reborn.
"SPIDER WEB" is my personal favorite on the entire album. It's very bouncy and catchy, its addicting hook is easy to get stuck in your head. It showcases the toxicity of social media through spider web imagery. "LEECHES" is the song she uses to talk about her experience living in Los Angeles and some of the people she encounters there. "BATTLE OF THE LARYNX" is my favorite in terms of lyrics. It talks about the frustration of arguing with someone who just yells instead of properly communicating.
In "THE CONTORTIONIST", Martinez writes about how she has bended over backwards and around again, changed her image, all for the sake of other people's approval. The song talks about the freedom she feels when she realizes she doesn't have to do that anymore. "MOON CYCLE" is the most taboo of the album. I'll let you interpret the lyrics of that one on your own.
"NYMPHOLOGY" is about the boxes that the patriarchy, society and the music industry puts women and femme-presenting artists into, exploiting and using them for their own gain or pleasure, then discarding them.
"EVIL" represents the pivotal moment in Crybaby's journey where she releases all the anger and, eventually, acceptance at the fact that even though she may be called evil for it, it's better to be evil than to continue to stay in a situation that does not serve her. And finally, "WOMB" ends the album as a metaphor for her final rebirth.