Meet New Baseball Coach: Shane McBride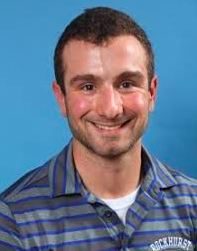 Shawnee Mission North has named Shane McBride the varsity baseball coach for the 2018-19 school year.  McBride has served as a graduate assistant and assistant coach the past two years at Rockhurst University; and this past year he oversaw the junior varsity program for Coach Gary Burns.
     "One of my major goals is to continue a lot of the positive steps that had taken place under Coach Day," McBride said. "I know that a lot of his players, the guys that are returning from last year, have told me that they really liked the direction the program was going."
     McBride grew up in Omaha, Nebraska and played collegiately at Benedictine College where he was a four-year letter winner. Upon his graduation with a bachelor's in education, he taught at Ascension Middle School for two years and coached baseball at SM South and St. Thomas Aquinas.
     "I think with having experience in the district, having been part of a winning program and having seen what the next level looks like both as a player and as a coach will really help me shape the program going forward," McBride said.
     Shane will be teaching in the social studies department at North.