Racing to the Finish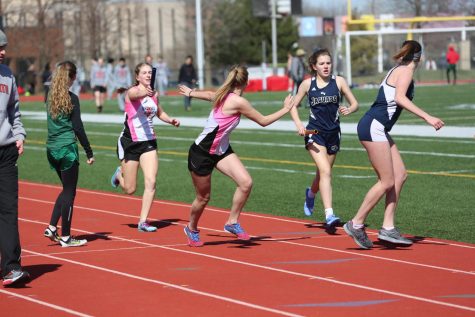 The track season is coming to a close and the runners and coaches are reflecting on their season. This year there were 6 varsity meets, 5 JV meets and one meet for Freshman only.
Head Coach Jeff Roudebush said that his team of about 125 has been doing well this season.
"The team has excelled in the distance events as well as sprints and hurdles," Roudebush said. "We also have some high jumpers, pole vaulters and shot putters excelling this year. Improvements in the other events have been steady as well."
High Jump coach Landon Murrell said he believes that there are exciting things to come in the future for his athletes.
"This year I have 9 athletes doing high jump (4 varsity, 5 JV)," Murrell said. "High jump was brand new for all of my athletes, except one. Although we are yet to place in a meet, each athlete has set a PR (personal record) and broken their PR."
Senior runner Ben Tyrrell, who has been running for SMN track for four years said he had a very good start to the season.
"I run the mile and two mile primarily," Tyrrell said. "As the season is winding to a close, I need to keep my focus and try my best to make it to state. I will continue to run in college, but I won't run on a team."
Freshman Zariah Tyler said that her first season running for SM North has been good.
"We have our ups and downs, but we always make it," Tyler said. "I participate in the 4×1, 4×2, 200, and the sprint medley relay. I've placed pretty good in all of the events I've participated in. I am going to continue to do track next year."
Freshman Christianna Kasunic, who has been doing track since fourth grade said that her coaches are very supportive.
"I technically have 3 coaches," Kasunic said. "Distance with Coach Davidson, pole vault is Coach Wags, and high jump is Coach Murrell. I love how supportive my coaches are and how they push me in order to become better even when I felt like giving up."
Murrell said that his favorite part of coaching is the impact that coaches can have on the athletes.
"You can learn so many life lessons through sports," Murrell said. "My main goal as a coach is to not only prepare my athletes to be successful when competing, but prepare them to be successful in life."