On the road to state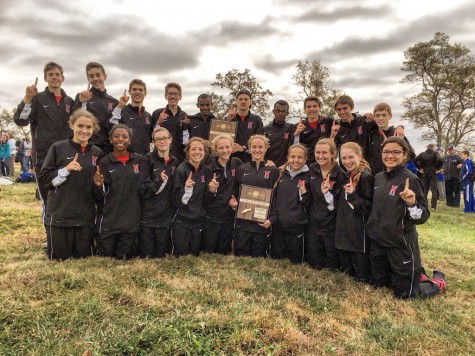 The girls and boys Cross Country teams won regionals in their division this past Saturday, Oct. 24.
State for cross country will be held at Rim Rock farm in Lawrence, Kan. on Oct. 31. Girls will compete at 11:30 a.m. and the boys will compete at 1:45 p.m.
The following are the times and places of each regional athlete that competed last weekend:
Girls
Amber Reed- 18:55, 3rd
Samantha Taylor- 18:56, 4th
Cassie Raines- 19:36, 6th
Katie Kasunic- 19:36, 7th
Molly Ryan- 20:01, 11th
Abby Onnen- 21:03, 28th
Gretchen Burchstead- 21:10, 30th
Boys
Belesti Akalu- 15:19, 1st
Alex Akalu- 16:13, 2nd
Noah Stevenson- 16:47, 9th
Luke Kasunic- 16:59, 14th
Carter Jacobson- 17:01, 15th
Joseph Coddington- 17:07, 19th
Asher Molina- 17:31, 29th