Not once, but twice
Junior Samantha Taylor breaks two school track records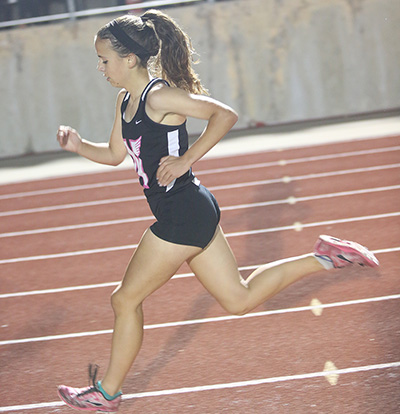 Rounding the last corner of the track during the Topeka Seaman Relays, junior Samantha Taylor sprinted down the last 100 meters of the girl's 1600-meter race. It was at this meet, that Taylor broke the girl's 1600-meter race school record at five minutes and 11 seconds. The previous record was 5:13 held by Kristin Wolky in 2005.
"I've been looking at breaking the mile record before track season started," Taylor said. "Coach Brown and Davidson helped me by creating hard workouts and it just happened."
Just a week later on May 8 at North Relays, Taylor decided to go for breaking another school record in the girl's 3200-meter race and with a time of 11:18, she broke the record set by her team mate, senior Sada Kernodle last year, 11:23.
"The training for the mile helped me with the 3200 meter race," Taylor said. "It's cool knowing that the record might be on the board in the gym for awhile."
According to her coach, Aaron Davidson, her work ethic and her confidence have been a huge part of her success this season.
"Its been fun watching Samantha grow as a runner and start to believe in herself," Davidson said. "She has established herself as one of the top girl distance runners in Kansas this year. We have a great group of hard working girls who push each other every day in practice and although Sam broke the record, the entire girls team as a whole has had positive attitudes and they are great training partners for each other."