North hires new Girls Basketball Coach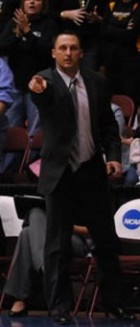 On May 10, it was officially announced that Brian McIntosh would become the Head Varsity Girls Basketball Coach. McIntosh's last coaching gig? Assistant coach of Emporia State Lady Hornets, who went to the Division II Final Four last season.
When looking for a head coach principal Richard Kramer had an idea of what type of coach North needed.
"We wanted someone to come in and stress tough fundamentals," Kramer said. "Along with giving our students an opportunity to play beyond high school."
The scheme that McIntosh will use hasn't been decided as of yet.
"I'm a big believer in changing up your offensive & defensive philosophies according to the type of players you have," McIntosh said. "I have my fundamental beliefs, but believe in playing to the strengths of your team."
What McIntosh hopes to bring to North comes down to four things.
"Our staff will bring energy, passion, work ethic and a new vision for Lady Indian Basketball," McIntosh said. "My experience over the past 15 years will be beneficial as well."
What McIntosh has done in those 15 years include four Sweet 16 visits with Emporia State, winning the last three MIAA Tournament Championship with Emporia State, leading Madison High School Boys Basketball team to a regional championship and two appearances in the Class 1A sub-state tournament and two sub-state championship games and one appearance in the Class 5A state tournament as an assistant at Gardner-Edgerton High School.
"He's the real deal," Kramer said. "He rebuilt the Northwest program and has won a great deal at Emporia State."
When talking about coming to North, McIntosh had nothing but praise for the school and program.
"Being the original Shawnee Mission school, there is obviously a rich tradition here," McIntosh said. "I love what North represents and I've always felt like North is a gold mine for girls basketball."
When hearing the news of the hiring, upcoming senior Katlyn Hughes was happy to know the new coach.
"He coached my sister when she went to Northwest, so I already know him," Hughes said. "Before the hiring, I kept bothering Kramer to see who it was going to be."
When looking foward to the future both Hughes and McIntosh are optimistic for what it brings.
"He doesn't know us or our weaknesses, so he will push us more," Hughes said. "Practices are going to be harder and we will have to work even harder.
"Create a culture of trust and mutual respect first and foremost," McIntosh said. "Once this has been established, I believe there is no ceiling for a young woman or team that comes to work each day with a positive attitude and a hunger to learn."