SM North Fashion Show
Art students will be putting on a Fashion Show free for students to attend in the rose garden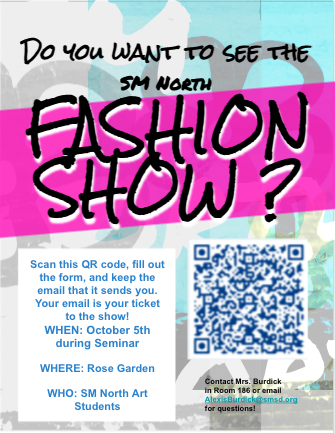 Students can attend SM North's new Fashion Show, which will take place in the rose garden. The show will be this Tuesday, October 5, during Seminar. Many posters advertising it have been put up around the school, as well as a link to sign up to attend in Canvas.
The fashion show was organized by Mrs. Burdick, who says she was inspired to start a fashion show from seeing many students' outfits.
"One thing that I just love about North is that people are allowed to wear whatever the heck they want," Burdick said. "Students just have such fascinating, beautiful textured styles and I love it."
Burdick emphasized that she is happy that students feel more accepted to dress as themselves here.
"We have so many amazing art kids that walk down the hall, and I take photos of their outfit," She said. "If it's a really good one I'll stop them and be like 'hold on I gotta Instagram this'.
Burdick received a grant from the Shawnee Mission Education Foundation, which helped fund the fashion show and bring it all to life.
There are 10 stylists who are participating in the show, each of which received a $50 giftcard to various clothing stores and thrift stores, and could use the money to buy whatever fabrics or clothing they needed to create their own unique outfits to display in the fashion show.
Be sure to sign up to attend here. Once the form is completed, you will be sent a certificate in your email, which will be your ticket into the show.
Leave a Comment