Secondary Students Move Back to Remote
Superintendent Mike Fulton announces students return to remote learning after concern over staffing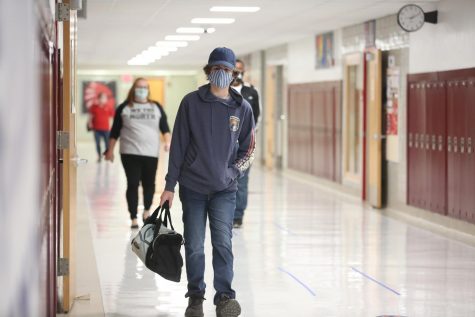 On Nov. 16, Superintendent Mike Fulton announced that secondary schools would be moving back to remote at the end of their break on Nov. 30.
In his email announcement, Fulton emphasized that this decision was not based on COVID-19 transmission rates that were student-to-student transmissions. 
"We have a rising number of employees who are in quarantine or isolation, which is impacting our ability to staff buildings at all levels," Fulton wrote. "Implementing remote learning for our secondary students will allow us to shift critical resources such as substitutes to the elementary level." 
This concern for staffing was brought to attention by Associate Superintendent of HR Micheal Schumacher at the emergency meeting held on Nov. 10. 
"We have had a dwindling fill rate this school year," Schumacher said. 
During the meeting, Schumacher emphasized the different variables that go into staff filling rates. 
"If a staff member were to resign, go on Family Medical Leave, or take a leave of absence our immediate response is to put a long-term sub in those positions. As those numbers have gone up we've had to use more of our existing sub-pool as a long-term sub."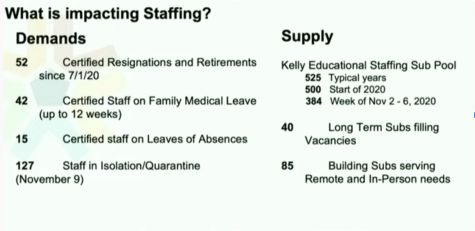 Read this story:  "District Board Meeting Summary – Nov. 10" for more information.
Principal Jeremy Higgins assures that the staffing issue is being addressed at North. 
"We have not had any classes that we have not been able to cover with a certified teacher or substitute," Higgins said. "We've had to scramble but we've always covered all of our classes." 
Both Higgins and the BOE hope to resume classes by a certain date. 
"Our hope is that when we start the second semester on Jan. 25 we'll be back in-person," Higgins said. "Within that, there are certain variables that could change, and that's a challenge to navigate at time, but that's the world we live in right now." 
With remote learning resuming, there is also a change in the allowed after-school activities. 
"Clubs and activities won't be able to meet after school," Higgens said. "Sports, extra-curricular activities, and co-curricular activities still have their set guidelines that they're guiding under. For the time being clubs will not be able to meet, they can meet virtually, but not in person." 
Higgens has noticed a variety of concerns that remote learning raised. 
"The feedback that we receive is all over the board," Higgins said. "Parents in favor of it and parents not in favor of it," Higgins said. "We [at North] haven't gotten a ton of since the announcement about going remote." 
Higgens believes that hopes over remote learning have grown with experience. 
"Teachers have now obviously lived with the remote aspect of instruction, and I think this transition back to remote will be smoother than at the beginning of the year." 
However, North's administration does not believe that they need a solid plan for the implantation of semester one finals. 
"We trust our staff to do what's in the best interest of their class and students, so I'm not going to give mandates that they have to give finals anyway," Higgins said. "Teachers are going to have to make decisions that they think is best and allows them to gauge what students have learned throughout the semester." 
Despite the many unknown factors of remote learning, Higgins encourages students to have a more positive attitude. 
'We've got to make the best of this," Higgins said. "Our teachers are going to be here busting their butt every single day to give you guys everything that they possibly can. We've got to make the best of the situation, and that includes our students. Maybe turn on your cameras every once in a while, so that teachers can see your smiling faces. We've gotta get up in the morning, put your shoes on and get to work, and I'd ask our kids to do the same thing. If we can do that we can definitely get through this together."