Talent Show Raises $1,200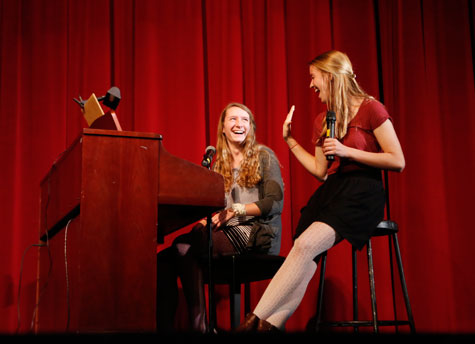 As fall comes to an end this year, the talent show took place once again. The show was very lively with an overall positive response. It took place on Nov. 8, with 16 performances that lasted a duration of one hour and 45 minutes.
"What is different from this year to last year is the acts," sponsor Brad Rose said. "This year we have a roller-skating dancer and a brass band."
The roller-skating dancer was junior Dominick King, who was convinced to try out by  encouragement from his friends.
"My friends told me I was good and I should try out," King said. "It's been my passion ever since I started skating when I was four years old."
One member of the brass band, another act that night, was senior Chacko Finn.
"We did [the talent show] to show that there is more to band than just marching band," Finn said. "It was a lot of fun to showcase band."
Other performances included those such as junior Matt Mahr's and senior Carly Hastings' duet singing, "Anything You Can Do."
"We wanted to do something funny and not serious," Hastings said. "It was a lot of fun, and it got me out of my comfort zone."
The talent show raised $1,200 for Coalition, an almost 50 percent increase from last year's $800 mark.
"It was a lot of hard work to get the talent show to go on," co-president junior Kelsie Sneegas said. "In the end, the result made the crowd happy."
Coalition will use the money to further help charities and other causes.
"The money goes right back to students trying to make the world a better place by volunteering their time to help the community," Rose said.
The final act was Beyond the Evening Star Theatre (BEST) dancing while scores were tallied. The BEST dance group's mission is to create communities of kindness and inclusion through performing arts.
"It was so cool and I was nervous," freshman Spencer Decker said.
At the end of the night, results were announced. The Brass Band placed first, Mahr and Hastings second, King third, seniors Cassie Needham and Tucker Bartlett fourth, and junior Hannah Patterson rounded out the top five.