NJROTC Armed Exhibition Team honors veterans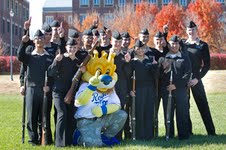 The Armed Exhibition team was invited to perform at a number of Veteran's Day observances.  This year the NJROTC Team performed for employees at the Sprint Campus, the US Marine Corps and multiple high schools, middle schools and elementary schools over a four day period, from Nov. 7 through Nov. 12.
NJROTC  students are: Jake Buchanan, Autumn Coleman, Caleb Coleman, Stephen Forbes, Kyle Garton, Angel Gutierrez, Ryan Keech, Jun Langdon, Hope McAlexander, Ben Muller, Jose Murrillo, AJ Reek, Alex Thiessen, Kaitlyn Tiemann, Anna Whitaker.  Chief Warrant Officer Dennis Grayless and Chief Christopher Neven are the NJROTC Commanders.