For Yekai Lu, this school year is unlike any other he has had. He is a foreign exchange student from the Jiangsu Province in China attending North this year.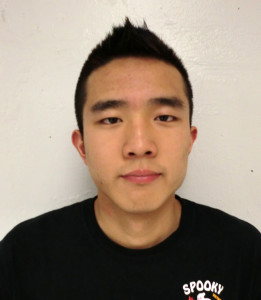 This was Lu's first time leaving his home country. He started to learn English as a child, but said it can still be challenging. Lu got involved in the foreign exchange program through a school notice he heard about.
"I was interested in seeing different cultures and lifestyles," Lu said. "I wanted the opportunity to open my field how I viewed the world."
Lu flew for almost an entire day with three flight changes in order to reach Kansas. He was both nervous and excited about leaving his home country.
"My host family treated me with a big hug and smiles." Lu said. "Already I am having more conversation and more fun. I am happier."
Lu's idea of the United States changed a lot when he arrived.
"I pictured big cities, tall buildings and everyone driving fancy cars," Lu said. "My view changed as I saw that the city was less crowded and had a nice environment."
There are quite a few differences between North and Lu's school back in China.
"Back home, I spent half the day at school and then I went home at night," Lu said. "Unlike here where students move from class to class, teachers are the ones that rotate from class to class. Our lunch schedules also differ, back home we had a lot more time to eat, we usually had enough time to take a nap."
Lu says that there are a few differences between American and Chinese students.
"North students have crazy hair, at my school there were strict rules on haircuts," Lu said. "In Jiangsu we had to wear a uniform to school, while here students can be very fashionable at school. Students at North also speak their mind more often."
Lu's hometown has a population of four million. It is famous for a dinosaur park and has many shops.
"My hometown is very fast paced and busy," Lu said. "The rhythm of life here is not as quickly paced and that's what I wanted."
What Lu enjoys most are the differences he finds in himself after three months in America.
"I have become more open with my personality," Lu said. "I also have learned to become much more independent, I am having a very happy life here. There are so many benefits to studying abroad. I suggest learning a foreign language. I would love to help anyone learn some Chinese."