Winter Musical Begins Showing This Week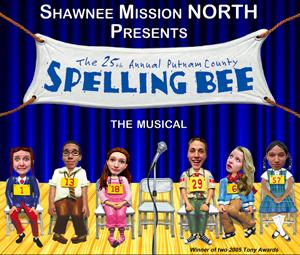 The Theatre and Music Departments will present the musical The 25 Annual Putnam County Spelling Bee Jan. 17, 18, 19, 24, 25, and 26*.  Curtain is at 7:00 p.m.  with an additional 2:00 p.m. matinee on Jan. 26.  Tickets are $10.00 general admission, children through 8 grade are  $5.00,  North students receive free pre-sale tickets with their student ID.
The 25 Annual Putnam County Spelling Bee is a musical comedy conceived by Rebecca Feldman with music and lyrics by William Finn, a book by Rachel Sheinkin and additional material by Jay Reiss. The show centers on a fictional spelling bee set in a geographically ambiguous Putnam Valley Middle School. Six quirky adolescents compete in the Bee, run by three equally-quirky grown-ups.
The show was nominated for six Tony Awards, winning two, including Best Book. An unusual aspect of the show is that four real audience members are invited on stage to compete in the spelling bee alongside the six young characters. Another amusing aspect of the show is that the official pronouncer, provides ridiculous usage-in-a-sentence examples when asked to use words in a sentence. For instance, for the word "palaestra," he says, "Euripides said, 'What happens at the palaestra stays at the palaestra.
            The Stage Manager is senior Kassandra Valles, Assistant Stage Manager is junior Destany Bowers.
Cast includes seniors  Frankie Baker, Jonathan Crane, Jacob Decker, Hunter Hawkins, Melissa King,Lauren McDonald, Austin Skibbie and Jenny Warren and juniors Corinne Boldridge, Kennedy Carter and  Addi Leitch,   Adult Directors are teacher Ben Bartlett, director.  Choir teacher, Juli O'Mealey, vocal director.  Amy Cramer, orchestra director. Theatre teacher Chris Palmer, technical director.