Scandalous and hysterical: With a cast and crew of 20 plus students, North's production of Moon Over Buffalo is full of affairs, big laughs and stunts
Brandon Morrison
December 6, 2011
Roaring laughter and clapping could be heard from the auditorium on Oct. 19, 20 and 22 when the cast of North's fall main stage, Moon Over Buffalo, performed their show. This fast-paced play was full of laughs, sight gags and big surprises.
Moon Over Buffalo's cast members were seniors Dakota Jafferis, Elizabeth Nickolett, Kyra Martiny, Jeremy Evans and juniors Elizabeth James, Frankie Baker and Hunter Hawkins. The play was directed by Drama teacher Chris Palmer.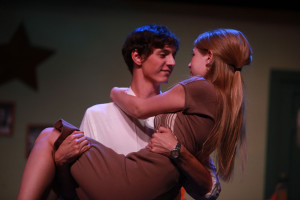 "Moon Over Buffalo is about two aging thespians who are offered a second chance at stardom," Palmer said. "But everything that can go wrong, does."
This is the second play Palmer has directed at North, his first being The Hollow, last year. Palmer said he had a better command of the directing process for this play.
"I am more confident this time around," Palmer said. "Last year I second guessed my decisions, but this year I had much better control of how things went on."
Palmer faced many unique technical challenges for his play.
"The play went very fast," Palmer said. "There are many entrances and exits as well as quick changes. These were the most difficult technical challenges for the show, but we had a very good costumes crew and the changes were performed with ease.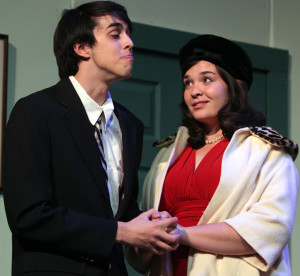 Hawkins said that Palmer chose the perfect play.
"Palmer knew what he was doing when he picked this play" Hawkins said. "It was funny, witty and dramatic. It had all the workings of a great show."
Senior Tucker Love was the show's stage manager.
"I called cues for the lights and sound crews, I called places for the cast members and I read the announcement at the beginning of the show."
Assistant stage manager, junior Kassandra Valles was in charge of the many unique props for the play.
"I got to handle real rapier swords for the play," Valles said. "My main job was to make sure every cast member had everything they needed at the time they needed it. It was great working with everyone, they were so fun and nice."
Although challenges were presented, the cast and crew had their share of fun.
"One of my favorite memories from the show is when cast member Kyra had to miss a rehearsal," Palmer said. "As a joke, at our next rehearsal, we staged auditions for her to be replaced and we had her walk in on them. It was priceless."
Martiny said Palmer has a good sense of humor and is a great director.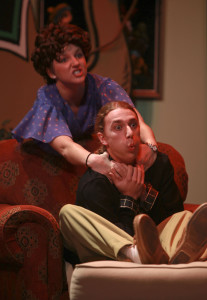 "He gives me trouble all the time," Martiny said. "But I love the way he directed, he is a very down-to-earth person and he always finds the humor in things."
This was Martiny's second mainstage; she will be directing a lab play for the winter season, The Greek Mythology Olympiaganza. Martiny explains how fun it can be to be involved in a play.
"It is such a good feeling to let go and be someone else on stage," Martiny said. "The play was so fast-paced and hysterical. Rehearsals were never like working. I got to just goof around with people I love."
To prepare for the play Martiny would run lines with family and get plenty of rest.
"I rehearsed lines with my mom up until opening night," Martiny said, "because my mom is fun and it helped with memorization. I also made sure I got a lot of extra sleep because the play was so fast and action filled, and it took a lot of energy."
Hawkins enjoyed the friendships made by putting on the play.
"I liked that the cast was so small, you really get to know each other," Hawkins said. "It's a much more intimate experience than a larger cast, you have a larger bond with each other."
Martiny encourages any student interested in drama to just go for it.
"Everyone fits in, in drama," Martiny said. "It helps build confidence and reliability. The drama teachers have so much wisdom and humor. You can learn a lot about yourself. Audition for a play or join a crew, there is nothing to lose."