Marching band students travel to Florida for the Cheez-It Bowl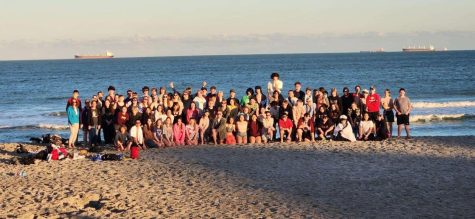 Members of the marching band took a 28-hour bus ride to Orlando, FL. The trip was initially meant to be around 19 hours long, according to senior Drum Major Sofia Mcghee. Due to the recent cold front, the trip was delayed over 9 hours due to snow and poor visibility.
"When we were getting there, we ran into [the coldfront]," senior Adam Baker said. "We were going through Tennessee and hit a snowstorm and it was just dead-stop traffic afterward."
The band traveled down to Florida for the Dec. 29 Cheezit Bowl in Orlando FL performing for the football game between the Oklahoma Sooners and the Florida State Seminoles. The Band also got to visit the beach, Universal Studios, Hollywood Studios and Epcot on the last day at Disney World.
"We were only supposed to go to two parks, but there was a scheduling error," junior Aiden Elliot said. "We ended up staying one extra day and visiting Epcot for about half a day."
The Cheez-It bowl performance was successful, according to Mcghee. The Bison shared the field with schools from across the country and performed music from Top Gun.
"I thought it went really good. Like, there wasn't a mishap," Mcghee said. "I listened back to it on YouTube and it was loud… really loud."