SMSD Superintendent to retire
Dr. Mike Fulton will retire in July 2021
Shawnee Mission School District Superintendent Mike Fulton has announced his plans to retire at the end of his contract, later this year.
"To serve as superintendent in SMSD has been an honor," Fulton said in his written announcement to the board. "It is with deep appreciation and great respect for the Board of Education, every student, every staff member, and our community that I share with you my intent to retire as superintendent in the Shawnee Mission School District effective on July 1, 2021."
Fulton began his tenure with the district and was appointed superintendent July of 2018, with a unanimousvote from the board, and took over for the then interim Superintendent Kenny Southwick. Previously, Fulton served in the Pattonville School District in Missouri for 23 years, 11 of which he was superintendent there.
"I think first of all, we have a wonderful community in Shawnee Mission, and it really has just been a joy for me to be part of the community. And that's not just as superintendent, but also just living in the community," Fulton said. "And so, to me, Shawnee Mission is just an affirmation of the importance of public schools, and just how wonderful Shawnee Mission as a community is — as a place to live, as a place to work, and as a place to learn."
Fulton has had many accomplishments in his time serving in different districts, including having been named Missouri Superintendent of the Year in 2016 during his time in Pattonville. One of his most notable, however, is his involvement in the creation and establishment of the long-term Strategic Plan in Shawnee Mission..
 "I do think the establishment of the strategic plan was really important and will remain important for years to come," Fulton said. "And that's not just me, that's the [board's] ability to come in and support the development of a process that engaged our community.  It's important to be thinking about, what kind of vision do we have for ourselves? Who do we wanna be, and wher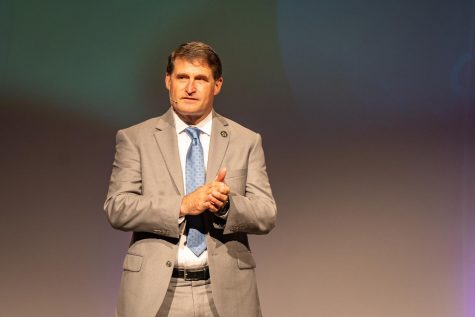 e do we wanna go long-term?" 
The Strategic Plan is a 5 year long plan, stretching from 2019-2024, that is intended to give students a personalized learning plan that helps prepare them for their future colleges and careers.
"There's still a lot of work to do, there's years of work ahead. At least we have a good plan, a solid foundation," Fulton said. "Now, it's just a matter of committing to the plan, staying with it and getting better as we go."
Despite only serving as SMSD Superintendent for about two and a half years, Fulton reminisces on his experiences with the district, and what he's enjoyed the most about working with the community. 
"The memories that stand out to me are those conversations where I had an opportunity to interact particularly with students, to interact with staff, just on issues around learning," he said. "For example, one thing I remember when I first came into the district, was an interview with the journalism departments from all five high schools, and what fun that was. I think the ability to just have conversations with folks is powerful, and that's the part that I've enjoyed the most in my time here."
SM North area SMSD School Board member Sara Goodburn says she's enjoyed working with Fulton since his tenure began, and working with him to solve problems.
"Two areas come to mind when I reflect on Dr. Fulton's tenure and his impact on our
District," Goodburn said. "The first would be his leadership and guidance around the SMSD Strategic Plan that was adopted in June of 2019. Secondly, his guidance and expertise centered around Diversity, Equity and Inclusion has helped the district continue and expand work in this area."
Currently, Goodburn is serving her third 4-year term on the board, though remembers meeting Fulton when he was first selected to be superintendent.
"I actually first met Dr. Fulton through the interview process that started in January of 2018 and I obviously was impressed by this knowledge, expertise and demeanor," Goodburn said. "He is so knowledgeable, easy to approach and willing to listen. He's a great communicator, delegator and has spent his entire professional career helping to ensure student success."