Shawnee Mission School District Mock Election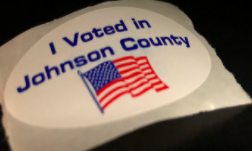 With election day fast approaching, the Shawnee Mission School District decided to have an election of their own. The mock election includes the U.S Presidential election, the U.S. House and the U.S. Senate, it will also use the Electoral College and give each school electoral votes based on population, all in an effort to teach students about the election process.
Heading the mock election is the Director of Curriculum, Darren Dennis, who used to be a social studies teacher before becoming the Director of Curriculum.
"The overall goal is really to help students understand the importance of voting and to make them familiar with some of the issues that are facing voters and society in general," Dennis said.
Teachers are also using the mock election to teach students about the mechanics of voting and how elections are conducted so that students understand the process when they are able to vote.
"To be an effective voter you need to understand what is happening, what the issues are," Dennis said. "You need to know how those issues affect you and how different candidates would respond, so you can vote in line with what your priorities are."
Helping to promote the mock election at North is Associate Principal David Ewers.
"The district will create a poll and we tabulate the results for the students and then we kick it back to the district," Ewers said. "They kind of utilize like an Electoral College system as far as how big a school is and how many electoral votes they get, so it's pretty cool."
Every school will be counted like a state, with the number of electoral votes based on the size of the school. North has 28 electoral votes. Students should have received an email from Ewers with the voting link.
"I thought that the mock election was great for the student body, especially for those who are yet to turn 18, to be able to somewhat interact with a political system," junior Conner bell said. "I think it's kind of important as simple as it was that we had this opportunity as young adults to take part in this as we begin to form our ideas on American politics."
Votes will be tallied on Tuesday, November 3. Results will then be given to teachers, principals and students at some point throughout the day.
"I hope that students can see voting as a habit that you can get into," Dennis said. "And that they have responsibility as voters beyond just showing up, but being informed on the issues that go into an election"