SM North students walk out in protest of teacher contract negotiation results
After walk out at SM Northwest and SM East, students at SM North join the protest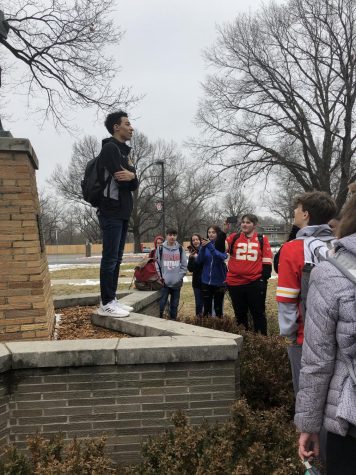 On Jan. 31. at 12:40 p.m. nearly a hundred students at SM North walked out in protest of the results of the teacher contract negotiations.
The district and NEA have been going back and forth for months negotiating the teacher contract. Due to the lack of agreement on topics such as teacher compensation and working hours both sides met with a fact-finder and then had a final meeting to determine what would happen to the contract.
As the final meeting in Jan. 9. came to an end with no clear agreement, on Jan. 30, the SM School Board imposed a 3 year unilateral contract which gave teachers the option to accept the new contract, work under the previous contract or resign without penalty by Feb 14.
The walkout was arranged by senior D'Angilo Allen, who went around different classrooms spreading the word about the walkout.
"I believe in our educators because they believe in me," he said. "They are the ones who greatly impact my life and my peers lives on a daily basis."
"Raise your hand if a teacher has ever made an impact in your life…." Allen asked the rally of students surrounded by the Statue of Liberty.
Many students raised their hands in agreement.
Other students such as junior Isabel Campsey hadn't heard about the negotiations before today.
"I decided to walk out because teachers are always there for their students and most teachers have this as their only job," she said. "They have a family to support themselves and I thought it was time to stand up and support all of the teachers that spend their time helping their students."
Principal Jeremy Higgens did not comment on the walkout.
The walkout lasted for about 40 minutes, ending at around 1:15 p.m. and Allen wanted to make it clear that the protest was not aggressive.
"We are not going to make a disturbance," Allen said to the students as they walked back into the school.
Many students such as Campsey found the walkout inspiring.
"I felt proud seeing how many people were standing up to help their teachers," she said. "I was thinking about the impact we would hopefully have on the Board of Education seeing how many students feel about this contract."