Northman 2017
Hang on for a minute...we're trying to find some more stories you might like.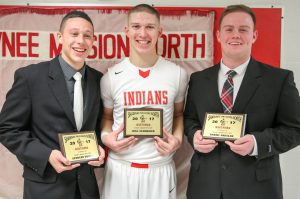 The 2017 Northman assembly was held on January 6, 2017 and the crowning at halftime of the boys basketball game on January 10, 2017. The winners include Danny Presler, 2nd runner up, Spencer Dubois, 1st runner up, and Will Schneider as the 2017 Northman.
The top 11 candidates included Harrison Boldt, Cameron Brown, Spencer Dubois, David Gabaldon, Marcos Garcia, Aleister Hughes, Carter Jacobson, Caleb McDonald, Danny Presler, Brendon Rennick, and Will Schneider.
Congratulations to all the candidates nominated. You are all great contributors to Shawnee Mission North.
North Pride!