Royalty at North: North's top three Homecoming Queen nominee's express their excitement and gratitude
Katie Murnan
December 8, 2011
On Friday, Sept. 23, the SM North football team played their Homecoming game against SM West. North students had voted for their top 3 Homecoming Queen choices during class throughout the week. At halftime, the top 10 nominees for Homecoming Queen prepared to walk out on the field.
"I thought it was an honor just to get into the top 10," senior Natalie Yancey said.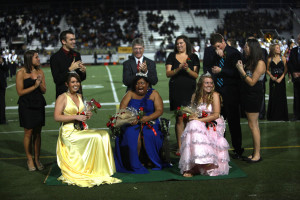 The 10 girls, escorted by their fathers or important male figures in their life, passed through the NJROTC sword tunnel, had their achievements and involvements announced, and formed a half circle around three white chairs. Where they were met by top 3 homecoming winners from last year.
"I voted for three of the most respectable girls at this school," senior Katie Fleming said. "To think that anyone other than them would win didn't cross my mind."
Yancey was named Second Attendant that night, Fleming became First Attendant and Casha Mills was named the 2011-2012 Homecoming Queen.
"I was amazed and kind of stunned," Mills said. "That whole week I had an idea in my mind of who would win and I was shocked when they said my name."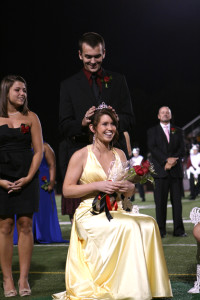 Each of the girls received flowers, which were given to them by a member of the 2010 Homecoming Court. As the ceremony came to a close, the nominees and final winners shared hugs and danced to the music.
"I had no idea that I would actually be in top three," Yancey said. "It was just a surprise overall and it was very exciting."
Mills described the feeling as great, also adding that she got teary-eyed.
"It was really surprising," Mills said.
Fleming said she believes that it affects her every day that she walks into school, and gives her a feeling of comfort when she needs it.
"If I ever feel lonely," Fleming said, "I remember everyone who supports me."
The Homecoming Court is often made up of people that have contributed the most. Each of the girls nominated this year have been involved in multiple organizations and clubs through out their high school careers, from Drama to Pep Club.
"I didn't feel like I did that much," Yancey said. "I'm just myself and to think that people want to see me up there was an honor overall."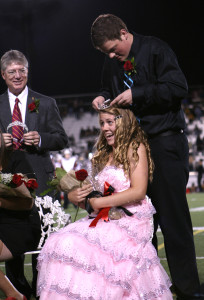 Being nominated for Homecoming Queen means that the nominee has represented the school in the best way. Each girl hopes that they have done so and believe that they have tried their best.
"I have definitely tried to make an effort to befriend everyone," Mills said. "I hope I have been doing a good job and I hope that's why me peers voted for me."