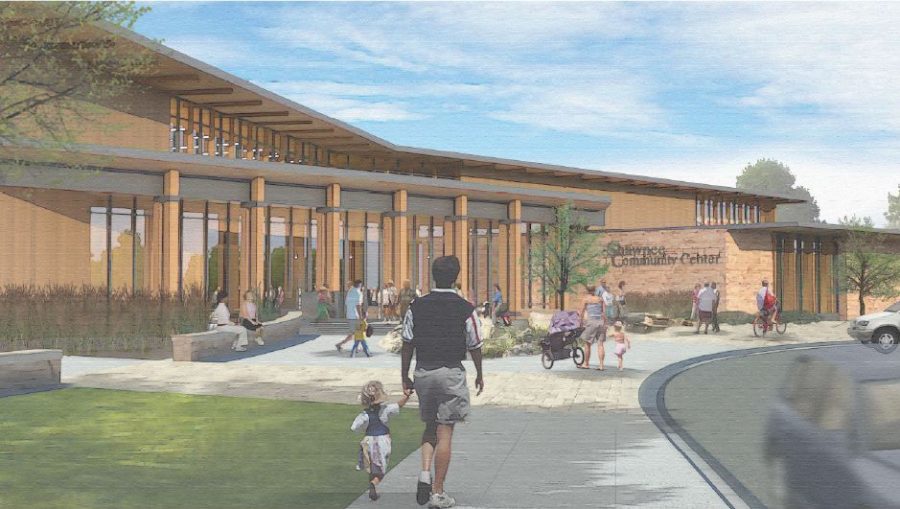 photo courtesy of the City of Shawnee
The city of Shawnee will hold a vote to decide whether to raise property taxes to fund the construction of a new community center.
Residents of Shawnee will receive a mail-in ballot in early May, which must be received by noon on May 21. The proposed community center would include an indoor pool, gym equipment and other recreational activities.
"I support the community center for a multitude of reasons, and I believe that the conversation goes beyond the brick and mortar – I believe it is about what kind of community we want to be," said Shawnee city councilmember Stephanie Meyer. "What we see when we think about the future of Shawnee. For me, this vision includes continuing to be an amazing place to live, work and play."
The property tax increase would go to purchase a $38 million bond that would be used to build the center. However, some residents view this as fiscally irresponsible.
"It is a want, not a need.  The property tax increase would have an adverse effect on a large segment of the population," said Ray Erlichman, writer of the blog 'Shawnee Ray's Ramblings'. "Personally I think the financial effect for the average citizen would be negative.  Especially when there are other items that need to be done (street repairs, storm water system upgrades, and many other items)."
Erlichman is one of many residents who have been vocal in their opposition to the community center. One of his financial concerns is that the original $38 million bond does not include funds to cover the interest that the bond will accrue.
"The center is projected to run in the red, which means that general fund money would have to be taken to cover the shortfall," Erlichman said. "The payback of the bond works out to $54 million."
However, city council members dispute the assertion that the $38 million figure was intentionally misleading.
"This $38 million figure has been used as the basis of project finances and represents the estimated basic costs of construction," city councilmember Matthew Zimmerman said. "Without this number, developing the budgets for financing and operations are meaningless. It must therefore be a stand-alone number and the basis of all other related calculations."
However, councilmember Eric Jenkins' estimate of total expenses for the community center lines up with concerned residents' numbers. Jenkins remains opposed to the plan for the community center.
"It seems frivolous to me that we would commit $58 million in tax dollars to this amenity when we have an estimated $200 million in unfunded requirements to repair our aging infrastructure for storm drains and pipes in the city," Jenkins said. "Many of them are collapsing and in bad need of repair as they are often 50-60 years old and were not made of concrete or other more durable construction materials."
Despite some residents' concerns that the projected numbers show the community center losing money each year it is in operation, Meyer also maintains that this is normal and expected for any building of its kind.
"This is especially common with recreational facilities," Meyer said. "That being said, these numbers are conservative, as we want voters to be aware of the worst-case scenario in terms of cost recovery, but we expect the actual numbers to be higher."
Kris Durbin, who is running in the upcoming city council election for the seat currently occupied by Mickey Sandifer, is concerned with the financial repercussions of building the center.
"I think that having nice things and having nice amenities in our community is a great thing to be proud of and a great thing to pursue, but I think we're doing it with too much risk," Durbin said. "Financially, with the bonds, and the property tax increase that's going to hit everyone who owns property in Shawnee. Then the cost to actually operate the facility makes it unsustainable for anybody to actually use. You almost have to be in the upper echelon and upper class to afford to go use the facility."
This is in line with some residents' concerns about the availability of the center to the people of Shawnee. Though every resident would have to pay increased property taxes to fund the construction of it, only those with a membership would be able to use it: a membership that will cost $840 annually for a family of four. All of these concerns are addressed on betterwayshawnee.com, a grassroots website that has been created to oppose the community center.
"I am not satisfied with the way they have handled residents' concerns," Erlichman said. "Their educational approach is touting the 'good' and forgetting 'the bad and the ugly'. It is important for folks to exercise their right to vote on this."